Advertising agency in Utrecht
Campaigns & Activation
Services
Target audience analysis
Communications strategy
Communications plan
Concept & Creation
Copywriting
Production
Video
Evaluation
Campaigns need clear objectives. This means understanding your target audience, a well-founded strategy, a strong creative concept and the smart use of resources. As every project and campaign is different, a bespoke solution is best. Want to know what we could do for you? Get in touch at info@today.nl or call +31 30 244 16 96.
Defining strategic solutions
We begin by defining the issue that our campaign needs to solve. A campaign is part of a good communications plan with clear objectives. Its strategic approach is backed up with knowledge and understanding of target audience behaviour. We determine a clear (media) strategy to solve the issue.
From content to form
In our campaign concept, we come up with creative ways of making your product, brand or service appealing. This is the springboard for addressing your target audience in surprising ways across various channels. We then elaborate the creative concept further into resources, content and actions.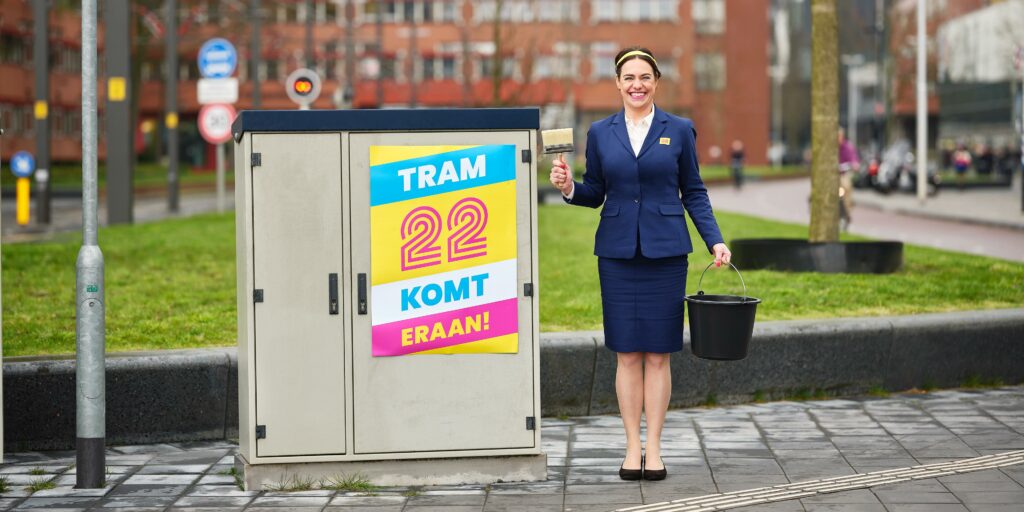 Tram 22 campaign
A cross-media advertising campaign by the Province of Utrecht to draw the city's attention to the advent of this new tram. This was why we engaged an enthusiastic tram ambassador. She set up all sorts of fun activities so everyone would know about the test drives for improving safety.
The greater the relevance, fun and impact of the advertising campaign, the more actively the target audience will seek it out and set things in motion.
Robots love music campaign
Many music robots from across the world were put on display at the Museum Speelklok. You could see and hear both the oldest and newest music robots in the exhibition. We developed a striking campaign and visual language for this unique exhibition.
Always on campaign U-OV
U-OV is the brand name of Utrecht's bus and tram transport. We developed various campaigns for it that run throughout the year. They are approachable and recognisable for everyone, and the communications tie in with things people do every day. They include themes like sustainability, tips & tricks on public transport, dilemmas and relevant promotions.
Working with Today
More than anything, working with Today means collaborating with Today. We are convinced that it's by complementing one another that we can get the best results. We engage in ambitious and committed relationships with our clients with characteristically short lines of communication. Our clients give us an average rating of 8.28. We have numbered among the Netherlands' top 3 agencies for the last 4 years (Fonk150 study).
Take a look at our cases